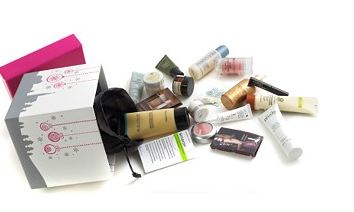 I ordered one and got it a little while ago. It is filled with goodies. It comes with a subscription to Flare, but once you get your box, it comes with a paper that you can cancel the subscription and get that money back if you want.
The Shopping Channel is offering a nice little beauty box full of samples and it comes with a free subscription to Flare for 12 months. All for only $25! Shipping is $6.96 but you can multi pack if your buying other items.
Just in time for the holidays, we have put together a fantastic beauty box. Inside you'll find some of the best products that will give you a lift, get you glowing and invite you to try something new. This exclusive collection provides a great opportunity to test and try an assortment of different products from The Shopping Channel. This surprise box has a value worth approximately $130.00. Included with these fabulous beauty products, is a 1 year subscription to FLARE magazine (a $12.95 value).
Includes:
• Holiday Surprise Box (with products from Perricone MD, Elizabeth Grant, Pur Minerals, SKINN, Elysee, Perlier, Proactiv, Calvin Klein, Leaf & Rusher, Luxuriant, Ojon, Nick Chavez and more)
• 1 year subscription to FLARE magazine (Order by Nov 10 and your subscription will start with the December 2010 issue. For more information please refer to the Flare Subscription tab).
Click here
to check it out. It's also being shown live tomorrow on tv.